Have you ever been to British Ceylon? No! It's time to explore the city. This blog surely gives you the ultimate guide to a great journey in Nuwara Eliya. The coolest city to visit.
That unforgettable experience
It feels like I have stepped back in time by 200 years,  to when Sri Lanka was called Ceylon. 
The servers stroll between the tables with style and grace while wearing elegant white livery. "Madam, would you want some more tea?" My cup of tea has been asked for a refill by the waiter at least five times, and each time I respond affirmatively. The cake stand is brimming with precisely manicured sandwiches, little burgers, and tiny cakes of various shapes and colors, and the table is elegantly arranged with white fine porcelain tableware. 
This was one of my best experiences in one of the best places that I visited; Can I have any guesses?
That's the city, "The Heart of the British Ceylon".
Once under British authority, Nuwara Eliya is known as "The Heart of the British Ceylon." Nuwara Eliya, located in the center of Sri Lanka, is still reflects the British rule. The red phone booths, rose gardens, colonial houses, and tea plantations all contribute to the area's feeling of a British city. Being known as the "City of Light," Nuwara Eliya ought to be at the top of everyone's list of places to visit. A guide to Nuwara Eliya's attractions will undoubtedly come in handy during your exciting visit to Little England.
What are you still holding out for? View the list of the top things to do in Nuwara Eliya by continuing to scroll down. But before that let us know some more about the city.
Footprints from the history
The Pidurutalagala, or Mount Pedro, which rises to a height of 2524 meters, casts a shadow over this cool hill region of Sri Lanka, which was formerly a wilderness area covered in forest and rainforest. John Davy, a British colonial commander, "found" the hill location back in 1819 and chose to establish a sanatorium there. Samuel Baker, an explorer who also found Lake Albert in Uganda and investigated the Nile River, built the settlement of Nuwara Eliya in 1846.
The British quickly adopted Nuwara Eliya, which translates to "City of Light," as a favored cool-climate getaway and a "home away from home" where they could produce English fruits and vegetables like lettuce and strawberries.
In terms of flavor and how quickly the tea bushes developed, the first tea bushes planted in the mountains between Nuwara Eliya and Kandy were a big success. Actually, it was introduced in 1867. The British quickly began covering large regions with tea bushes, and one tea plantation after another arose, turning Nuwara Eliya into the region's epicenter of the tea.
With its red telephone booths, pink brick Victorian post office, well-kept golf course, horse racing track, colonial houses, and rose gardens, Nuwara Eliya nevertheless exudes the charm of an English country community today.
Water buffalos are grazing on the hillsides, there are tea bushes growing everywhere, there is chaotic traffic on the streets, there is the fragrance of rice and curry, and there are busy marketplaces and little businesses all over the place. 
Getting impatient to discover breathtaking Little England? The top things to do in Nuwara Eliya are listed below. Take a quick glance and decide on all the activities you want to do while on vacation.
Best things to do in Nuwara Eliya
Can you relate this quote, "Undeniably many of us will relate to it as tea lovers are spread all over the world and nothing can be better than relishing the aromas of pure Ceylon tea" said by Lao Tzu, about the specialty of Ceylon tea. In Nuwara Eliya you can see tons of tea estates and the well-known Pedro Tea Estate is one of the topmost things you can do in Nuwara Eliya.
Pedro Tea Estate allows visitors to travel among the green tea plantations and even learn about the complex processes involved in making tea. Make room on your Nuwara Eliya to-do list for the City of Lights' tradition of sipping tea.
Would you like to do bird watching, then this is a perfect place for you. You can capture the Pied Thrush, Kashmir Flycatcher, and Indian Blue Robin in Victoria Park with your camera. 
One can take a stroll in the park and see beautiful bird species there as well as at the Galways Land Bird Sanctuary, which is a few kilometers in front of Victoria Park.

Looking for entertaining activities in Nuwara Eliya? To add some pleasure to your trip, go fishing at Gregory Lake. Along with being well enough by tourists for fishing, you can rent a rowing boat, a Swan paddle boat, or a water scooter to explore the stunning lake.
04. Horton Plain National Park
Sometimes the best way to explore is go on foot. And there are places to satisfy this need of yours. From the Horton Plain National Park, one can take a hike through the magnificent Bambarakanda Waterfall to the charming Ela village. Going on this challenging trip will allow you to appreciate Nuwara Eliya's magnificence through the dense forest, beautiful waterfall, and fascinating rocky environment.
You only wanna travel, no ideas to buy anything? The Bale Bazar, also known as Nuwara Eliya's winter market, is well-known among the residents for offering a wide selection of winter clothing. If you feel like donning a cozy sweatshirt and touring the city, stop by the market.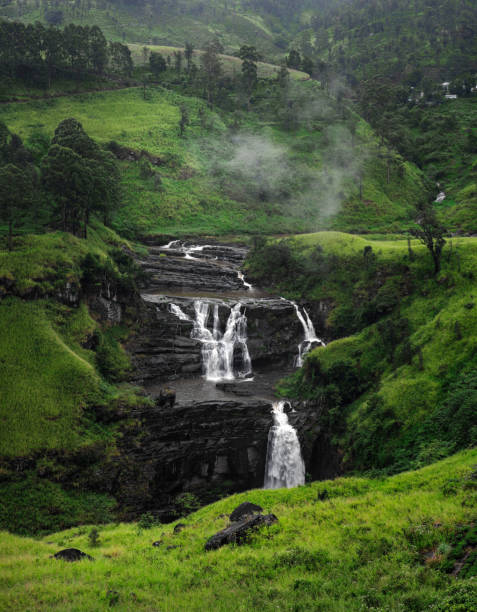 One of the best things to do in Nuwara Eliya will always entail taking in the spluttering waterfalls, whether it is the Lovers Leap waterfall or the St. Clairs Fall. You can either walk through the woodlands or hike up to the waterfalls to get there. Devon Falls, Bomburu Ella Waterfall, and Kolpathana Falls are further must-see waterfalls.
07. Nuwara Eliya Post Office
Taking a stroll through the city and stopping by the colonial-style post office are two of the most entertaining things to do in Nuwara Eliya. The Nuwara Eliya Post Office, one of the city's historic structures and a must-see location for antiques enthusiasts, was built in 1894. Additionally, the city has a lot of red telephone boxes, which adds to the feeling of a British city. Additionally, you can enjoy delectable strawberries by visiting the city's fields.
08. Hakgala Botanical Garden
Nuwara Eliya provides something special for you if you appreciate nature. One of the top things to do in Nuwara Eliya is to visit the Hakgala Botanical Gardens, where you may smell fragrant flowers and take in the surrounding beauty. 
It is Sri Lanka's second-largest botanical garden overall. You will discover several unusual flower species while strolling through the garden because of the area's mild climate. Because of its beauty, the area sees a lot of visitors, so be sure to include it on your schedule.
What else in Nuwara Eliya? Adam's Peak hiking is one of the most amazing Nuwara Eliya activities available. Early in the morning, you'll see a lot of visitors and hikers ascending the peak. Therefore, you and your companions must visit this summit if you enjoy having your heart rate increase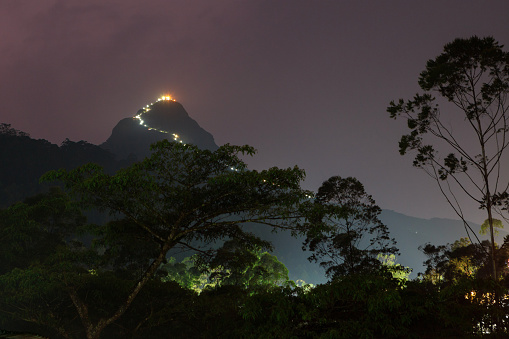 Devon Falls is a fantastic location to check out in Nuwara Eliya where you may marvel at the wonders of nature. It is one of the top tourist destinations in the area for reviving oneself away from the bustle of the city.
 The location is about 20 minutes from Nuwara Eliya, which is nearby and is a great vacation destination. Additionally, you can go to Mlesna Tea Castle, where you can sit on the balcony and enjoy some hot tea while admiring the scenery.
Due to its large coverage of vegetation, Ambewela Farm is frequently referred to as Little New Zealand. It is one of Nuwara Eliya's well-known locations and is spread out over a vast region. Visitors can enjoy this farm's lovely grass by strolling around in their bare feet. Visitors to this farm can see cows and other cattle while taking a tour. If they're fortunate, they could also get to see a cow being milked. Here, visitors can purchase fresh dairy products and sample them directly from the source.
Make sure to visit the stunning waterfall if you are visiting Nuwara Eliya. It is recognized for its picturesque sceneries, which include highlands, ridges, plains, streams, and mountainous slopes. 
It is situated in the Pussellawa district of the city of Kandy. Ramboda Falls is one of the top attractions. It is situated between Kandy and Nuwara Eliya on the highway. Be certain not to miss it.
You can come or stay at The Grand Hotel to indulge in the delicious High tea at the end of the day. This location offers elegant accommodations and activities like morning safaris, bonfires, and trekking. It is a must-have on your list of things to do in Nuwara Eliya. Enjoy the gorgeous hotel's gracious welcome, and don't forget to sip some Ceylon tea. You will definitely recall the experience I had. If you want to check out, click this link for more info.
https://thegrandhotelnuwaraeliya.com/
You might be the first time traveler to Nuawara Eliya, But I'm sure. You can have a great time here as a digital Nomad in your days of calendar.
Comment us on your experiences of these top places in Nuwara Eliya. And make your memories unforgettable.