A small town on the southern coast of Sri Lanka, Weligama is a prospective hotspot for digital nomads named a "sandy village".
Comprising sandy beaches and turquoise water, this hotspot was mutually liked by tourists for surfing. But as more tourists started transforming into digital nomads, Weligama has taken the opportunity to make it into a second home for digital nomads.
So let's look into the different scopes of Weligama, shall we?
Once you have gotten the data package to use in Sri Lanka, it is no problem to use the connection here at Weligama. The network bandwidth is relatively strong here unless there is rainy weather with huge thunderstorms or lightning.
But there is also an option to use the Wi-Fi in the various restaurants and co-working spaces provided that you spend a bit of money buying their food or drinks.
Getting to Weligama can be confusing for a first-time digital nomad. But don't you worry! There are various options as well!
You can hire a car/ van directly to go to Weligama from the Katunayake Bandaranaike Airport. This is the best way if you are carrying your board and gear in tow with extra baggage.
But if it's just you and your backpack, then you can take a train from Colombo to Weligama. While traveling on this ride, get ready to be mesmerized by gorgeous beaches and surf towns
If you do want to save up some of your money, then you can by staying in the different guesthouses and hotels in Weligama. Some also offer both co-living and co-working spaces together like 'Outpost'. The basic minimum price per night starts from $46 (Rs.16740). But it can go further up depending on your budget.
Community is at the heart of Outpost. Their co-living and coworking spaces are where the curious and adventurous go to meet, share ideas, and travel together.
You'll have reliable internet, regular cleaning services, and staff onsite for support 24/7.
Website: https://destinationoutpost.co/
But even when your accommodation is covered, you cannot go without food, can you?
Weligama offers the most traditional Sri Lankan food. It varies from egg hoppers to a plate of string hoppers with a variety of spices or even the staple food of Sri Lanka: rice and curry (literally a balanced diet).
Prices range from 2 dollars (for munchies) to $6 (for a whole meal) which is comparatively cheaper!
As a digital nomad, you do want to experience the culture and have fun too, don't you? Here are some of the things you can do at Weligama.
You can visit the Kanneliya Rain forest which is one of the world's biodiversity hotspots. Thereafter you can take one of the safari tours in Yala or Udawalawe (nearest to Weligama) to experience the nature and wildlife in Sri Lanka.
But you cannot go without trying surfing in the turquoise waves where you get hit by the salty water and breeze. Weligama measures a whopping 3.2km from point to point but arches in a horseshoe far inland. This results in a perfect cleft in the coast for refracting swells and breaks that are drawn into lovely, long frames. In other words, it offers clean, glassy conditions in the sea which is suitable even for a beginner! Even though it becomes busy in the seasons, you will enjoy your time there and even learn a thing or so about surfing.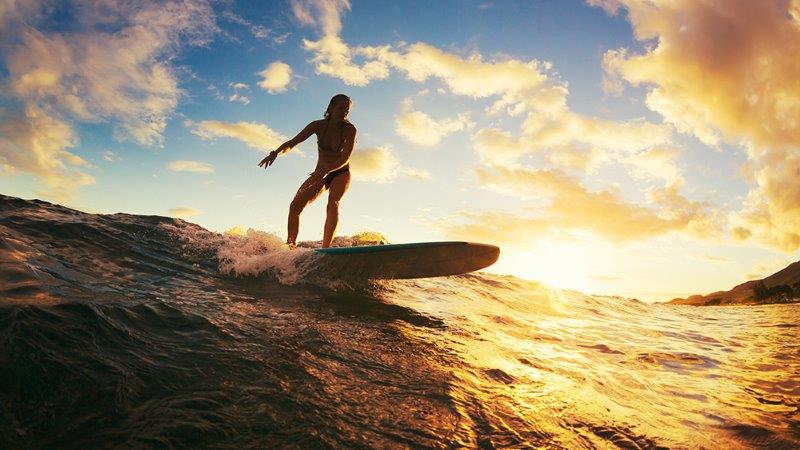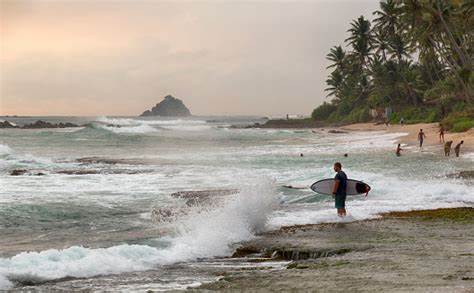 And how can you forget? If there are beaches, then it means there are beautiful sunrises and sunsets too. After a long day of traveling around or even attending back-to-back meetings at your second home, you can simply relax down at the sandy beach and watch the sunset filling the skies with hues of red, orange, and yellow.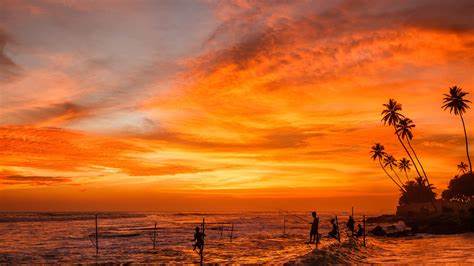 Adjusting to a different town may be frustrating at first. But being prepared for them is the best method. Unplanned and planned power cuts tend to happen frequently which can last anything from a few minutes to a whole day but being ready for it is more practical. So don't forget to check out the start guide before you arrive in Sri Lanka (https://www.nomadbuddy.life/starter-guide-to-visit-sri-lanka/).
All in all, with the surrounding lush beaches and crashing waves, you will feel at home once you get adjusted to your work and leisure time!